Lance Knox
This story on LCol Lance Knox originally appeared on northernhoot.com in November of 2015.
Veteran Lance Knox of the 49th: A Lifetime of Commitment, Sacrifice and Courage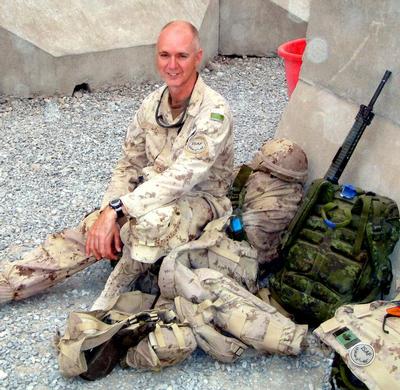 At the young and impressionable age of 16, Lance Knox donned the Canadian Armed Forces uniform and the artillery cap badge. At the time, the thought of joining the non-commissioned ranks, getting paid, and going on an "adventure", as the job was then described, piqued his interest enough for him to enlist. Now 39 years later, that then young and naïve teenager is now Lieutenant-colonel (LCol) of the 49th Sault Ste. Marie Field Regiment, Royal Canadian Artillery, and has seen the realities of total war.
Knox is the only member in the history of the regiment to go through the ranks from private in 1976 to commanding officer (CO) as Lieutenant-colonel, a title he earned in mid-October at a special change of command ceremony, in which, for the first time, one Afghanistan veteran (LCol Eric Groulx) handed over command to another Afghanistan veteran. Yet despite the prestigious title, Knox's lengthy career with the Canadian Armed Forces has been served on a part-time basis as a reserve soldier. "As commanding officer, it is a very busy part-time job," he says with a laugh. "I'm responsible for supporting regimental activities, that includes everything from supporting the soldiers, getting them ammunition and supplies, to getting approvals to run exercises, to maintaining the administration associated with a reserve regiment." Administration duties include ensuring soldiers are paid in a timely fashion, managing and adhering to the budget, and regimental discipline. "I am responsible for the discipline of the unit, up to and including things like summary trials."
Prior to becoming the head of the Sault Ste. Marie's artillery forces, Knox served overseas for eight months in Kandahar Province in Afghanistan from April to December of 2010. Although Knox did not take up the call to arms initially when Canadians became involved in Afghanistan in 2001, he knew he would venture overseas, and was inspired to do so when members of the 49th Sault Ste. Marie Field Regiment began to voluntarily enlist. "I felt as an officer in a unit who had reservists that were going … that it was important as a leader to go to better understand what they would be going through and would go through. Every tour is different. What a young soldier goes through might be entirely different than what I went through. But nevertheless, for them to know that I had walked the same ground and gone through the same trials and tribulations that they had was important to me. I felt that it made me a better officer. That was my primary reason for going. I wanted that opportunity to better myself as an officer for my soldiers." As a proud Canadian, and a member of a peacekeeping mission, Knox also wanted to share Canadian values and privileges such as freedom, education, and democracy, with those in Afghanistan.
While on active duty, Knox served as Captain and Second-in-Command of the Civil-Military Co-Operation (CIMIC) team. CIMIC operators were responsible for providing support to combat forces in villages and communicating with Afghans. Often, by communicating with the nationals, CIMIC operators were able to understand the needs of specific villages as well as their infrastructure. They were also able to connect relief agencies with one another to provide valuable provisions, such as blankets, to villages that were cut off from supply lines. If a CO was planning to do an operation that could potentially affect a village, CIMIC teams would be able to provide an assessment and comment on the potential impact of that operation on villages, and suggest alternative plans to avoid any distress to villages. "So as a second-in-command, my job was to support my team who was out there. Support them with supplies and administration … I would be brought out when there were tough negotiations with a village or if [the team] wasn't sure what the solution should be. It gave me an opportunity to go to those villages, have conversations, share ideas, and hopefully come to a resolution that would help them through their lives."
While Knox had opportunities to leave the safety of Camp Nathan Smith and Kandahar Air Field, where he spent the majority of his tour, he only left the compound three or four times throughout his deployment. And that was enough, as imminent dangers loomed just metres outside fenced in Forward Operating Bases (FOB). "I had a sergeant that worked for me that stepped on an IED [improved explosive device] with just two weeks to go on his tour. He survived it but it drove home how close you can be to not surviving. The dangers were very real."
On one of his adventures outside of the confines of Kandahar Air Field, Knox had the opportunity to communicate with an Afghan Elder. The conversation has stuck with Knox, and helped him realize the positivity that has come from his and other Canadians' involvement in the third world country. "I came across a village Elder who said to me, 'Education is the way ahead for our life… My grandchildren will learn to read and will be able to help me understand the world better.' That was pretty insightful for me." The Elder admitted to not being able to read, including the Quran, and wasn't able to decipher which way to properly hold a book.
For Knox, Canada's involvement and mission in Afghanistan brought sweeping change to the country and great pride in himself and in his fellow comrades. "I was deployed for eight months and in those eight months, our teams, scattered throughout the battle space, opened up 21 brand new schools, put 4000 kids back in school – 1000 of those kids were girls – so education came back to the villages. We re-established commerce in villages that had been vacant. Lights were coming on at night and villages were starting to thrive. Those were all positive things. I watched local governance, everything from local village leaders to small towns who had a mayor, re-establish governance. I saw Afghan citizens walk through minefields for the opportunity to vote," he pauses. "We helped them re-establish democracy. We had to lead their hands through it since it was a new concept for many of them, but they were embracing it. Those Afghan citizens appreciated it. And that made me extremely proud to be there."
Knox admits his tour, including both the positive and negative experiences, has stuck with him. "I'll be honest, there isn't a day that goes by that I don't think about my tour. I'm not sure if that's normal or not – I think it is. It was a very enriching experience for me. Scary at times, no doubt about it. Sad at times, we all saw things that were unpleasant. But also rewarding since I saw things that Canadian soldiers were doing for the average Afghan on the ground."
Despite spending the majority of his eight-month tour within a FOB, Knox was confronted by death and the cost of total war on a daily basis. "When I worked in Kandahar Air Field, I was metres away from the Kandahar Memorial, so the faces of every Canadian, American, and other nations' soldiers who we lost in the taskforce during the years of combat, were on that wall. I walked by them every day. To see the wreaths there, and people coming in from the FOBs and that was their first opportunity to say goodbye to someone that they knew, that inspired me every day to do the best that I could and to remember those that weren't coming home." Unfortunately, Knox lost many Canadian, and a few American comrades while overseas. He participated in countless ramp ceremonies, in which a casket containing a fallen soldier was loaded into an airplane to be transported back to loved ones in Canada. "As much as possible, when a ramp ceremony was occurring, you would go to it. It was very sobering. It was a reminder of our mortality. It could happen to anybody. It was an opportunity to say goodbye to a comrade in arms." In total, 158 members of the Canadian Armed Forces were killed in the line of duty in Afghanistan from 2001 until 2011, when Canada ended its mission abroad.
Although he admits one can never be fully prepared to deal with the reality of death and losing a fellow comrade, Knox did have sympathy training prior to his deployment. Knox served as the Casualty Assistance Coordinator in Sault Ste. Marie for Master Corporal Scott Vernelli, who was killed in Afghanistan on 20 March 2009, when an IED detonated near him. Knox provided vital support for the immediate family of Vernelli. "Because of that, I understood what was on the other end of those ramp ceremonies. And having that understanding was a double edge sword for me. Part of me was comforted knowing that there was a very good support network in place for those survivors, but part of me was sad knowing what was waiting for that plane when it got back to Canada."
If the opportunity presented itself to Knox, he doesn't feel he would participate in another tour of duty – but not because he wouldn't want to. He admits that being 56 years-old and close to retirement has put a damper on those sentiments. "It's a young man's game. You're doing 17 hour days, 7 days a week, weeks on end. I could do that, but I'm two years from retirement." Between his eight months in Afghanistan and his eight months of work-up training leading up to deployment, Knox had to push back his retirement with the Ministry of Transportation, where he works on a full-time basis. "The other reason I probably couldn't deploy is because I have kind of promoted myself out of a job," he adds with a laugh. "There aren't a lot of opportunities for deployment for a lieutenant-colonel."
He also isn't sure he could put that kind of pressure and stress on his family, which consists of his wife Pattie, and children, Jacob (who is also a member of the 49th Sault Ste. Marie Field Regiment) and Jennifer. His family has been supportive of his entire military career, including his time overseas. "I get goosebumps thinking about how much they supported me. It was extremely hard on them. I spoke about this last year at the Remembrance Day Ceremony – we just don't give enough credit to the families for the hardships they go through. I couldn't do what I do without support from my family. And it's not just doing a tour. It's all the other things reservists do – we're gone a lot. And if we want to do what we do effectively, we can't be thinking about what's going on at home while we're doing that. We need to have that support from home, and not everyone has that. I'm blessed that I do."
Last year, Knox served as the Guest Speaker for the 2014 Remembrance Day Ceremony at the Essar Centre. Remembrance Day has always been a day of utmost importance for Knox and he started participating in the City of Sault Ste. Marie's annual ceremony when he was a cadet. But his concept of Remembrance Day changed after returning home from Afghanistan. "A tour is different than normal day-to-day reserve life. You're only maybe gone for three weeks at a time, nothing significantly long. The tour exposes a totally different mindset to you and the sacrifices that soldiers make. Since I was a young boy I had always appreciated the idea of sacrifice. So the tour certainly strengthened my convictions on Remembrance Day."
To show your support for Remembrance Day and Canada's men and women in uniform, Knox urges citizens to proudly wear a poppy this Remembrance Day. "You don't have to support our missions. You don't have to say anything. You don't even have to pay for the poppy if you don't want to. But wearing a poppy, in my mind, is a way of recognizing the sacrifices of those who haven't come back have made, as well as those who are still in uniform. It's a simple thing to do."
---
John Burke, DFC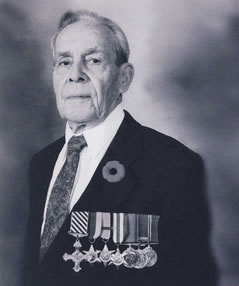 In November 1944, Flight Lieutenant (Flt Lt) John Burke was awarded the Distinguished Flying Cross. His contributions, sacrifices, and bravery in World War II with the allied powers were recognized with the prestigious third-level military decoration from the United Kingdom. The medal recognized Burke's acts of valor, courage and devotion to duty while flying in active operations against the enemy.
Burke was born and raised in Sault Ste. Marie, Ontario. He attended Sault Collegiate before enlisting in the Royal Canadian Air Force in North Bay, Ontario on 27 June 1941, two years after Canada's declaration of war. After enlisting, Burke was sent to Regina, Saskatchewan to train as a pilot. A depth perception problem, however, prevented him from finishing. Otherwise deemed physically fit, Burke proceeded with training at other posts including Chatham, Ontario for Air Observer school (completed in April 1942); Bombing and Gunnery school in Mountain View, Ontario (finished May 1942); and Astronavigation in Rivers, Manitoba (completed July 1942). He also earned wireless training. After completing extensive training, Burke rose to the ranks of sergeant, and was sent to Halifax, Nova Scotia, where he awaited his overseas assignment. He was posted to Bournemouth, England as a bombardier, where he trained for operational flying with Wellington Bombers.
Burke's first operational assignment was with 420 "Snowy Owl" (City of London) Squadron. With the squadron, Burke was responsible for flying over heavily fortified enemy targets, including Wilhelmshaven, Cologne, Frankfurt, Stuttgart, Manheim, and Duisburg in Germany. In particular, Burke remembers the flight over Duisburg in which his squadron was forced to fly figure eights through heavy cloud cover over the target until they were able to drop their bombs.
After eight operational flights, Burke earned the rank of flight lieutenant, and 420 SQN was one of three squadrons (420 "Snowy Owl", 424 "Tiger" and 425"Alouette" formed No. 331 RCAF Wing) posted to North Africa for the Invasion of Sicily in 1943. Typically, Burke's transit to North Africa would not have been considered an operational flight. However, the flight occurred during daylight hours, and the squadron was attacked by enemy aircraft. In total, three planes were lost in the transit.
On 2 June 1943 Burke's plane landed in Blida, Algeria to refuel. On leaving the airfield, an engine quit and the plane was forced to turn back. However, the plane had lost hydraulic power. Burke crawled into the belly of the aircraft where he pulled the rudder controls by hand to assist the pilot in landing the aircraft, only after manually lowering the landing gear. Unfortunately, they crash landed just short of the airfield. There were no injuries, but the plane was severely damaged. Burke's crew was not able to return to the squadron until 8 July 1943.
The Invasion of Sicily started on 10 July1943. The first of the two planes leaving the squadron base were carrying jamming equipment, which jammed the enemy and allied communication equipment forcing them to turn back. Burke's flight was cancelled that day.
On 16 July 1943 Burke's squadron was ordered to fly to Naples where enemy aircraft was concentrated. Burke's plane was coned in search lights over the targeted area and was hit by enemy fire. The plane's escape hatch was blown open knocking Burke over. He was injured with shrapnel in the leg. The hatch door landed back down with Burke still on it. Had he not been on the door he would have fallen out of the plane to his death. Despite taking a hit, the plane was still functional, but crashed on landing. Burke's injuries from the attack hospitalized him for two months. He was able to return with his squadron back to England in December 1943. In total, 63 airmen from the three squadrons were killed in the campaign.
By January 1944, Burke had reported back to operational training with a new crew. Burke trained on Halifax aircraft and was assigned to 424 "Tiger" (City of Hamilton) Squadron. On 16 March 1944, they flew a diversionary mission over the North Sea and on 19 March 1944, they flew a "nickel" flight, dropping leaflets near Paris.
In June 1944, 424 SQN resumed operational flights. Their first flight was on 6 June 1944, D-Day, in the Invasion of Europe, bombing the coastal areas at night. Burke went on to fly 21 more sorties, concentrating on oil refineries, railroad marshaling yards, and to buzz bomb rocket sites, one being a V2 long-range ballistic missile site, one of Germany's most sophisticated and deadly weapons.
Burke left the service in October 1945 and returned to Sault Ste. Marie and to his job in the chemistry lab of Algoma Steel. In 1946, he moved to the Canadian Forestry Service from which he retired in 1982.
Burke passed away on 12 November 2013.
---
Harold Soderlund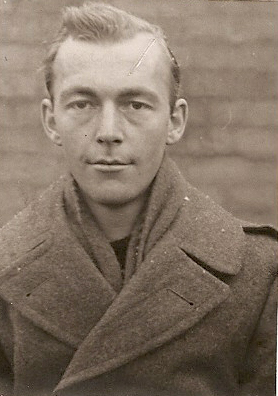 "We had survived the rather heavy odds of crashing into the sea at night… In a war, battles are often fought in faraway places and men and women will lose their lives. Often luck plays a part in their survival. That was so for me on the night of August 30th, 1944," recounts Canadian Air Force (CAF) Pilot Harold Soderland. This was Soderland's last flight in World War II, which led to his nine-month internment as a Prisoner of War (POW).
Harold Soderlund was born in 1921 on a farm near Sturgis, Saskatchewan. He and his Swedish immigrant family owned a farm, which became a source of comfort and provisions for the poor during the Depression Era. Growing up on his family farm provided Soderlund with ample opportunity to practice his craft of construction, which inevitably resulted in him building a log cabin which bordered on his parents' property.
His relatively routine life changed when the Second World War erupted in 1939. In 1941, after the Government of Canada established the Dominion Provincial Youth Training Plan (DPYTP) for young men interested in joining the CAF, Soderlund enlisted. "I decided that this was an opportunity to escape the tedium of sitting behind four horses (the view was uninspiring) and riding a cultivator or plough." With a close friend, Soderlund climbed aboard a railcard destined for Saskatoon to begin his six months of training, which including welding work and the extensive studying of aircraft engines. For Soderlund, this was also his first taste of big city living.
After successful completion of the DPYTP at the Saskatoon Technical Collegiate, Soderlund joined the Royal Canadian Air Force and went to the Manning Depot in Brandon, Manitoba. Here, Soderlund had his first encounter with military discipline, guard duty, and route marches. These weren't the glorified activities Soderlund expected upon enlisting. Fortunately for him, his routine duties were short lived as he was posted to St. Thomas, Ontario to a former insane asylum building, equipped with barred windows, which lodged Air Force recruits for further training.
After St. Thomas, Soderlund was posted back to his home province, to Yorkton, Saskatchewan. Soderlund logged plenty of airtime in Yorkton as a passenger on test flights with pilots. The exuberance of being airborne, coupled with experiencing his first loop in midair, convinced him to switch from being ground crew to aircrew within the CAF. This change in heart brought him to Rivers, Manitoba in the fall of 1942 for flight training, where he spent nine hours completing in-course instruction, prior to taking his first solo flight. After a brief visit home, Soderlund ventured via train to Clarenshome, Alberta where he was awarded his pilot wings and was commissioned as a Pilot Officer after 60 hours spent in the air.
In February of 1943, in Summerside, Prince Edward Island, Soderlund completed a six-week course in aircraft navigation, prior to finally being posted overseas. Here, he also received crucial operational training on the Beaufighter, a twin-engined plane, known for its strengths in both the daylight and evening hours. The plane was equipped with four 20 mm canons and eight armour piercings or explosive head rockets. Some even carried torpedoes. "This aeroplane was called the 'Whispering Death' by the enemy because of the low engine noise." Those onboard the plane included the pilot and a navigator or gunner. A machine gun was also mounted in the navigator's compartment for defence against rear attacks.
Nearly five years after enlisting, Soderlund was finally posted overseas. In January of 1944, he received his post to the 603 City of Edinburgh Squadron, where he was tasked with attacking enemy shipping facilities in the Aegean Sea. He received plenty of "experience in flying that [wa]s not taught in class", including how to fly a plane that had endured heavy gunfire and how to fly a plane through extreme weather, including thunderstorms.
On 30 August 1944, Soderlund's plane was shot down and he became a Prisoner of War of the axis powers. "My navigator, Sergeant Ian Nichol and I were assigned to patrol the Aegean Sea north of Crete. The enemy was evacuating the Island of Crete at this time. At the half-way point of our patrol and at an altitude of 200 feet, I set a course for the homeward journey and coincidentally this provided a brilliant full moon path ahead of our aircraft." Ahead in the moonlight, was an enemy aircraft, a Junker Ju 52. With his training in the back of his mind, and the feeling of duty and obligation taking over him, he immediately began to pursue the enemy in his Beaufighter, who was perhaps 2,000 feet away. When the enemy was in distance, he fired with his 20-mm cannon. He doubts the enemy was actually hit.
"In turning to port to break off the attack, our Beaufighter almost collided with another Junkers 52 flying in the opposite direction to the first one. At this point, I made the mistake of continuing in pursuit of the second Junkers. Bullets from his rear gun hit our port engine and it quickly lost power. I attempted to feather the propeller to reduce drag, at the same time straining to keep the aircraft flying straight against the pull of the still functioning starboard engine. The propeller did not feather and I could see flames at the back of the port engine. All my thoughts and energy were now concentrated on keeping the Beaufighter flying but a slight bump at the back of the aircraft meant the tail end had touched the water. Moments later the Beaufighter slid onto the water. I hit my head on the windscreen as the aircraft came to a sudden stop with the nose in the water. I quickly opened the overhead escape hatch and hit my parachute and seatbelt release button and climbed out on the wing. Ian Nichol was already there."
Within seconds, the Beaufighter had sunk beneath them, into the depths of the ocean. Luckily, both Soderlund and Nichol were wearing lifejackets and the Aegean Sea was warm this time of year. One of the two dinghies within the now sunk aircraft floated to the surface. "This was another of the fortunate circumstances that contributed to our survival. We inflated it and climbed in. My feet dangled in the water. A fully-lit hospital ship was passing some distance away and we tried attracting attention with one of the small lights aboard the dinghy but to no avail. The enemy aircraft circled a couple [of] times with a landing light on but did not see us."
A few days later, Nichol and Soderlund had drifted toward the occupied town of Candia on Crete, and a German patrol boat ventured to their dinghy, capturing them. That evening, both were placed aboard a Junkers Ju 52 with German soldiers being evacuated from Crete. The plane took its passengers to Athens, Greece, and fortunately, without any encounters from the 603 Squadron. Nichol and Sunderland were held prisoner in a former school building, where their guard and a former schoolteacher informed them that "in Germany, if you were told that black was white you had better believe it."
After a week in the school, all the POWs were placed on a train, bound for Salonika, Greece. The train travelled at night without any lights. Knowing that his future was bleak, Soderlund attempted to escape through a tiny window near the top of the carriage. He had nearly escaped when Russian prisoners alerted the guard. "I quickly dropped back down and I heard the click of a rifle bolt. No light came on and the incident passed. I often wonder if I had made it out how this story may have changed."
At the prison compound in Salonika, Soderlund and Nichol were joined by several P-38 Lightning pilots who were shot down while attacking aerodromes in the vicinity. German guards told them that they were Chicago gangsters.
After arriving in Salonika, the POWs travelled in the forward compartment of a transport truck to Skopkle, Bulgaria. Upon arrival to Bulgaria, several Junkers 87 Stuka dive bombers dove on the aerodrome, dropping their bombs. "The guards had taken us outside the aerodrome as the sirens sounded. It was an encouraging sign. We learned that the planes were captured from the Germans and flown by Romanian pilots who had by this time been liberated. The aerodrome at Skopjle, Bulgaria was quickly repaired after the Stuka dive bomber raid and after sunset I was placed aboard a Junkers 52 again with German soldiers and the plane took off. The journey was not without excitement. At one point the plane was rocked by bursting anti–aircraft fire."
Soderlund's flight landed in Zagreb, Yogoslavia, where he was then put in a holding room. That same day, he once again was put onboard a passenger train, destined for Budapest, Hungary. "There was a tourist aspect to this journey because I could observe the scenery in the lovely countryside. Crossing the Danube River it was noticeable that some repairs were done to the bridge. I soon found myself in a narrow cell at the Budapest penitentiary. After a few days, I was placed aboard a 40-man or four-horse carriage along with other prisoners and the train headed westward. In a couple of days, the train arrived at Frankfurt which was the interrogation centre for aircrew prisoner. I saw at this time the rubble of bombed out buildings firsthand. The interrogation officer suggested that since I had no identification that I could be turned over to the Gestapo… After a week I found myself aboard another train headed for Stalag Luft 3."
Almost a month after he had been shot down, Soderlund arrived at Stalag Luft 3. He estimates it was around 1 October 1944. "The camp had a library of sorts and one could exercise within the camp grounds. Food consisted of a dark, heavy bread and a thin soup once a day. The International Red Cross was allowed to bring in concentrated food parcels approximately 10 inches square by three inches deep once a month and this was a Godsend. As I recall we could send out one letter a month. Showers were cold water; our beds were straw mattresses on wood slats. A clandestine radio procured by some ingenious prisoners provided news which was passed around in a book. We knew of the crossing of the Rhine at Reymegan."
By February, the Russians were approached Stalag Luft E. All prisoners were marched to various destinations. Soderlund's group took five days on foot to reach Luckenwald, a city south of Berlin. They could hear the bombing of Berlin.
By April, the Russians were nearing Luckenwald. "A Russian tank came and knocked down the gate and we were able to get out in the countryside. An American convoy of trucks came to take us away but the Russians refused to let us go. It was not till a week or so later that agreement by the Russian and Allied generals allowed our return to Western Germany and evacuation to Britain. The war was over and the next move was back to Canada… This end[s] the account of my war experience ... I tell it not to glorify war but to relate how I and my navigator/gunner survived by luck and the grace of God.
I am proud that I did my part as I was expected to do although I lost the battle. In life you must do your best to succeed but sometimes you lose and sometimes you win. Always do your best and you will find confidence in yourself and pride in what you can accomplish."
---

Robert George Martineau
Robert George Martineau was born on May 20, 1920 in Sault Ste. Marie. In his 23rd year he enlisted into the army.
On Sunday, June 14, 1943, he left for Toronto to commence active training in the army. He trained at Camp Borden and Camp Petawawa. During one of his leaves, while visiting his parents, he developed pneumonia and when he returned to Camp Borden, his troop had already left for active combat duty overseas. Because of his first aid knowledge while working at the Chrome plant, he was reassigned to the Royal Canadian Army Medical Corps (RCAMC). He arrived in England on June 24, 1944 and was stationed in Leavesden. He was on staff at the No. 23 Canadian General Hospital. While in England he met his future bride Mary Jane (Jenny) Reed. They were married on March 2, 1946.
After the war ended, he returned to Canada on June 21, 1946 and was discharged from the army on August 1, of that same year. His English war bride followed and arrived in Canada on September 10, 1946. Together, they made Sault Ste. Marie their home. He returned to work at the Chrome plant and then in 1947 he went to Algoma Steel. He worked his way up to turn foreman in Crain Repairs and retired from Algoma Steel in 1982.
He passed away on June 18, 2009.
---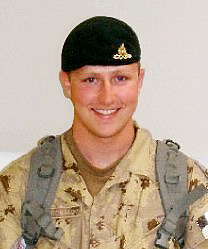 Each year, November 11th stirs countless emotions in Canadians and others around the world. Remembrance Day is a solemn occasion to reflect on those who have fought and continue to serve in the wars which have shaped Canadian society, including the Great War, the Second World War, the Korean War, the Bosnia War, the War in Afghanistan, among others. When attending ceremonies across the country, most recognize veterans as greying and aging men and women who proudly wear uniforms adorned with medals across their chest. However, with recent peacemaking efforts occurring around the globe, our vision of veterans is quickly changing to represent a younger generation who work and live among us, but who have also experienced the reality and cost of total war. Kurt MacDonald, a fourth-year student in both the Law and Justice and Psychology programs at Algoma University, is one of those younger veterans, having served in Canada's peacemaking efforts in the Afghanistan conflict.
Born and raised in Sault Ste. Marie, and a graduate of Bawating Collegiate and Vocational School, MacDonald first became interested in the Canadian Forces when a Howitzer was brought to his high school as a recruitment technique when he was in Grade 11. "I thought, what's this?! I want to play with this!" he states with a smile. He joined the Canadian Forces at the age of 17 as a Private, and completed his Basic Military Qualification (BMQ) as an artillery soldier within just over one year. He then emphasized his interest in serving overseas. On December 22 of 2007, he received a phone call stating that his application had been accepted. He was going to war at the young age of 19.
On September 14, 2008, MacDonald landed in Kandahar, Afghanistan, a place that differs greatly from his hometown. "It's definitely a weird feeling landing in a war zone. But what was even weirder was walking down this alley on the airport tarmac, where these other soldiers were getting on the plane I just got off to head home. And when I looked at their faces, some looked so happy, others looked tired, sick, almost dead. It was unnerving and all I could think was, 'What did they just go through and what am I getting myself into?'" After five days of briefing in Kandahar, MacDonald was routed to his destination, which was a mere 50 kilometres from Kandahar, but took five hours to get to. "That first day of travel was scary. You want to go faster, but searching for threats like IEDs [improvised explosive devices] takes time. And every time you have to get out of the armoured vehicle, you have to be extremely careful and are constantly looking around for threats. Some of the rocks around you are painted white and could be disguising something, or represent the presence of old Soviet mine fields. You have a lot of things going through your mind. But then you get used to it – it becomes second nature."
For his eight months overseas, MacDonald was primarily a detachment member on an M-777 155mm Howitzer where he provided combat support for November Company and others who needed help. "Essentially, they called in fire support, and we gave it to them." As an artillery soldier, MacDonald was lucky enough to be kept at a distance from close combat situations. "We were in FOB [Forward Operating Base] Wilson, so we always see stuff from a distance but we're not in close combat. The enemy never messed around with our guns – they had a bad experience in the past, so they tended to leave us alone," he adds. "I was as safe as I could have been there, I'd like to think." But as safe as MacDonald felt, his comrade in FOB Wilson, Master Corporal Scott Francis Vernelli, who was on tour with MacDonald, was killed in action by an IED in March of 2009.
Although MacDonald was faced with adversity and was subjected to war, he did feel like a peacemaker, and that his involvement in Afghanistan made a difference. "At FOB Wilson there were always kids all around us. And I know I made a difference with them. You see what they're living in everyday and it's heartbreaking. But when we left, they were all wearing Canadian toques, shirts, and shoes. I'd like to think they're better off now. They might be wearing a toque in Afghanistan," he adds laughing, "but at least they are clothed and protected from the sun. And at night, it's freezing in the desert."
And when MacDonald finally returned to Canadian soil in April of 2009 at the age of only 20, he was a veteran. He had to be reminded of that at his first Remembrance Day ceremony. "I remember sitting at the Essar Centre when they asked for all the veterans to stand. My buddy beside me tapped me on the shoulder, and said 'That's you.' And I stood up, among all the other veterans. I used to idolize these veterans, and now I'm one of them," he pauses. "Afghanistan changed Remembrance Day for me. And I think it's starting to change for others. People see me with my Afghanistan medal and realize I'm a veteran, and we have young veterans in today's society. They're not just people of the First and Second World Wars; they're young men and women who have witnessed war and have seen the realities of it that will haunt them forever. We need to respect that and honour them at Remembrance Day." Even while he was on his tour of duty, he respected those who came before him and were serving among him. Him and his comrades took part in a single gun salute in Afghanistan on November 11th, amidst the turmoil of war.
When asked if he would go back on another tour, MacDonald hesitates. He wanted to return to Afghanistan within one month of coming home, but was denied. "I don't know why I wanted to go back. Maybe things felt unfinished. Maybe it was that there were still soldiers over there. Maybe it's the camaraderie. Maybe it's the money. I just wanted to go back." But whether or not MacDonald completes another tour of duty, he knows that his eight months in Afghanistan have changed him forever. His emotions, for example, are something he is still grappling with and trying to come to terms with.
Currently, MacDonald is working part-time with the 49th Field Artillery Regiment in Sault Ste. Marie as a Bombardier while he completes his degree. He plans on continuing as an artillery soldier, working toward becoming a Master Bombardier, and perhaps one day, an Officer. The Canadian Forces have also provided MacDonald with funding to help pay for his tuition. Upon graduation, he plans on continuing with higher education, pursuing a Master's of Arts in Criminology.
Algoma University encourages its staff, faculty, and students to observe Remembrance Day and to attend a Remembrance Day ceremony happening throughout the community. The University and MacDonald also encourage everyone to wear a red poppy to show their support for Remembrance Day and to remember those who have fallen, as well as those who continue to serve.